Add a Page About Diversity to Your Church Website
It's important to let your local community know (and Google, too) that your church values kingdom diversity.
Why Build a Multiethnic Church Landing Page?
People in your local community are searching for ethnic and economically diverse churches. They're seeking something different: a healthy multiethnic church striving to reflect the diversity of its community and the kingdom of God.
The search for healthy multicultural churches is not going away. In fact, this growing trend reflects changes in the ethnic makeup of America and more importantly, God's love for all people on earth as it is in heaven. (Revelation 7:9)
Millennials (44%) and Gen Z (48%) are the most racially and ethnically diverse generations in American history.
By 2042, America is projected to be a Majority-Minority nation.
If you build a page on your church website dedicated to multiethnic church diversity, Google will bring people looking for that kind of church right to you. Right now, there may not be much traffic related to multiethnic, multicultural-related church terms. That is great news for your church! This means that if you build a page on your website dedicated to this topic, Google will prioritize sharing your page with anyone searching for a multiethnic church.
What Should Be Included On Your Landing Page?
Create a page on your church website dedicated to church diversity in your city.
On your page, speak authentically about your church's value and pursuit of healthy church diversity.
Be honest in how you describe your church and don't project it (in word or pictures) as something it is not at the moment.
Make sure to mention your association with Mosaix and include a link back to our website. This will help us grow the Multiethnic Church Movement.
See an example multiethnic landing page below. Our free diverse landing page kit download has everything you need to get started (including a copy of the Mosaix logo).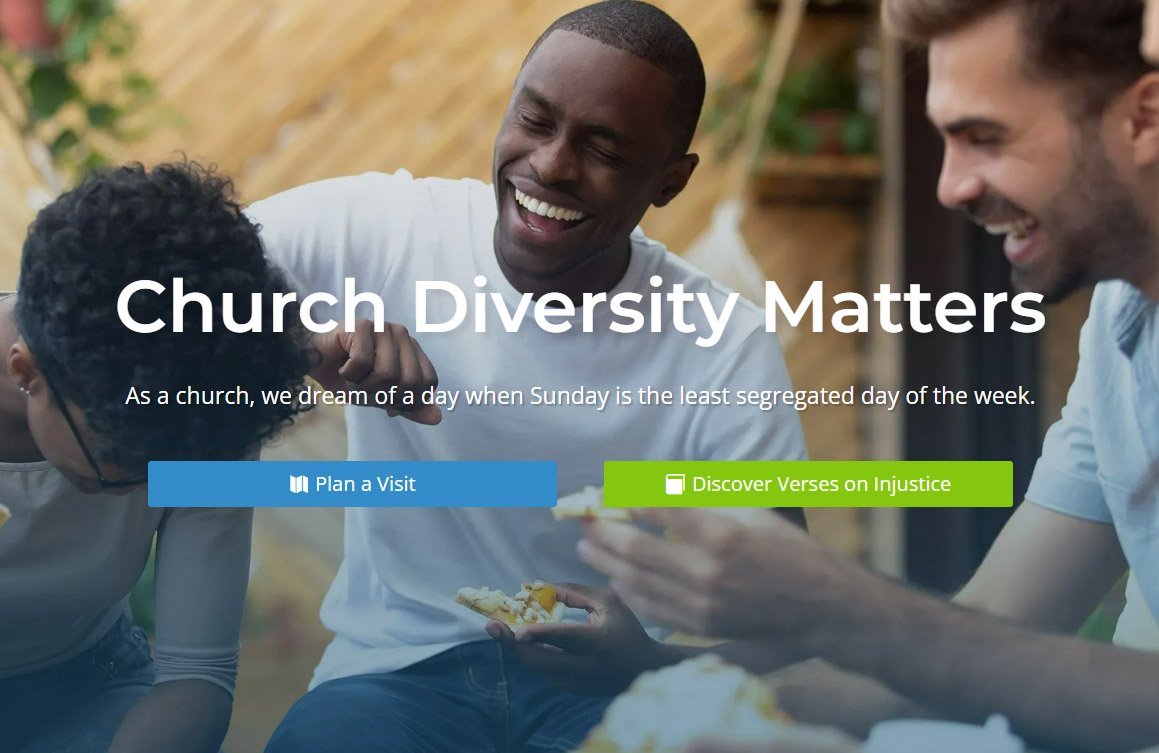 Your church should consider adding a page like this to your church website.
You can place this page under your About Us menu item.
Building a diverse church landing page is just the beginning. Once Google understands what your page is about it will send some new traffic to your page. However, you can supercharge traffic to your new page with online advertisements.
Where Should We Show Ads?
The optimal places to promote your new page are Google Display, Google Search, Facebook, and Instagram. You can learn more about advertising platforms here. Note: Boosted Facebook posts have limited effectiveness. Instead, run a full Facebook Ad.
If your church needs help running ads reach out to the experts at Missional Marketing. They help hundreds of churches reach their local communities each month.
Download the Free Multiethnic Church Page Building Kit
If your church is looking to build a page on your website dedicated to expressing the value of kingdom diversity, this kit contains everything you need including images, writing, and the Mosaix logo.